Press Release from Buckinghamshire Council 13 April 2022
Bin collections across Buckinghamshire will be operating to a revised timetable over the Easter Bank Holiday.

Collections due to take place on Good Friday, 15 April, will move to Saturday 16 April, and with no collections on Easter Monday, 18 April, all collections that week will take place one day later than usual. Please check the revised timetable online and present any bins or containers by 6.30am on the revised collection day.

Residents who might be using the Easter Bank Holiday to get started on some spring cleaning are reminded that on 1 April, Buckinghamshire's nine household recycling centres moved to their summer opening hours: 9am – 6pm. All sites will also remain open over the Easter bank holiday weekend, including Good Friday and Easter Monday. Please check the website before you travel.
\
For more information including how to check your Easter bank holiday bin collections, where to find your nearest household recycling centre and top recycling tips for this Easter, visit, www.buckinghamshire.gov.uk/bank-holiday-bins

Please also follow @BucksCouncil to keep up-to-date with the latest recycling & waste and bin collection information on Facebook and Twitter.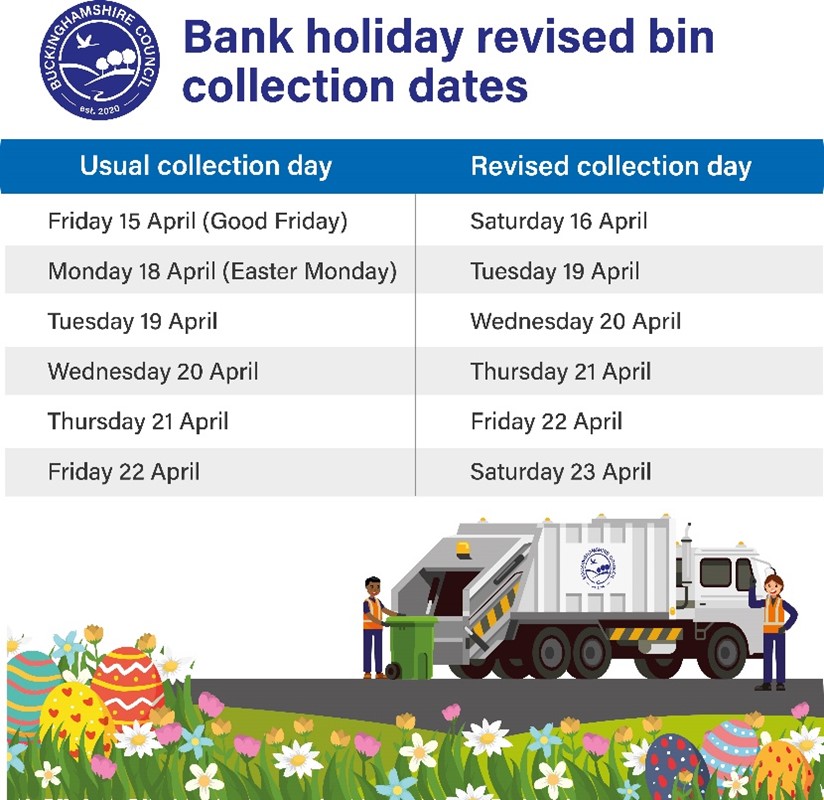 Image: Easter bin collection service changes 2022